AIR MATTRESSES AND RELATED PRODUCTS
---
New World manufactures five styles of air mattresses including two in our unique airframe style . We stock two types of quilted covers and one inflator/deflator unit.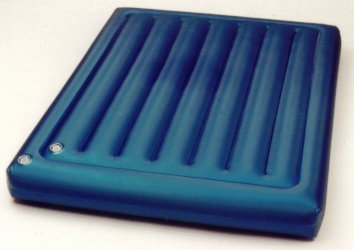 Unique Airframe Style Air Mattresses
Unlike other types of air mattresses which need to be inflated firm to offer an acceptable sleeping surface, the unique airframe style FIRST CLASS AIR DUAL SYSTEM, shown on the left, and FIRST CLASS AIR, shown on the right, are different in that they can be adjusted to your body weight to provide a comfortable sleeping surface. The mattress also provides edge support for sitting and edge-to-edge sleeping by inflating outer chamber more firmly than inner chamber.
The FIRST CLASS AIR DUAL SYSTEM offers two separate sleeping chambers, edge support and three comfort level adjustment valves for total adjustability and individual comfort. You can adjust each chamber to any firmness level that your body weight dictates for comfort. You can lie down, roll over and climb out of bed and not disturb the person laying next to you. It is available in two sizes each of King and Queen, 9" deep. Custom sizes are not available in this style.
The FIRST CLASS AIR has one sleeping chamber with edge support and two comfort level adjustment valves. This style of mattress is made to fit in all sizes of waterbed frames, can also be used on top of box springs, sleeper sofas or even on the floor. Custom sizes available for RVs, sleeper cabs, travel trailers and antique beds. Available in the six sizes plus custom sizes.
The STANDARD AIR is the basic air mattress with baffles head-to-foot. It is the least expensive of the air mattresses. Since it does not have an outer air perimeter, it needs to be maintained with firmer air pressure to provide overall support. Available in six sizes.
The Standard Air and the First Class Air can be ordered with an outside wall to give an extra few inches of sleeping space. This particular mattress can be used as an insert in any soft sided unit with a foam perimeter. Foam cannot be tapered, must be a square shape internally where the mattress will sit for proper fit. Order as a Special Standard Air with Outside Wall or Special First Class Air with Outside Wall.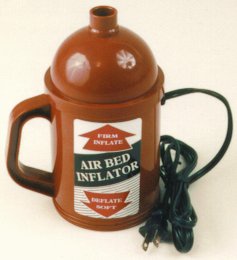 AIR BED INFLATOR
Powerful hand held air bed inflator/deflator with on-off switch. Easy to use.
Air mattresses with attachable automatic inflator/deflator may be custom ordered.
Mattress covers are optional. Highly recommended for additional comfort. They feature a high quality ticking, quilted with a layer of foam, padded sides and a non-skid bottom. Cover are zippered around the side panels for easy access to the mattress.
The STRATUS standard cover shown below has 3/4" thick foam padding on the top surface. The ULTRA Deluxe Pillow Top cover has 1 1/2" thick foam padding. Select the Ultra Cover if you prefer the most comfortable feel.
Home Page/ Tank and reservoir liners/ Pond liners/ Bulk container liners/ Custom products/ Airframes and other waterbed products/ Surgery pads and mattresses/ Lining Materials