WATERBED MATTRESSES
---
You have thought about a waterbed. Your friends have told you how much they love theirs. Now you are looking for one of your own. Rest assured, when you sleep on your waterbed, you will soon discover for yourself the unique benefits of floation sleep.
You will rest more comfortably than ever before because your waterbed adapts to your body and shape. You will enjoy deeper sleep patterns for longer periods of time because your waterbed's even support eliminates pressure points and the tossing and turning they can cause.
You will relax naturally to the soothing warmth of your heated water mattress. And if you are concerned about your back, or muscle aches, or even arthritis, you might well find the health benefits of a waterbed to be advantageous.
Now that you have chosen to sleep on a waterbed, your most important decision remaining is to pick the mattress that is best for you.
THE FAMOUS "AIRFRAMES"
Since 1971, New World's unique line of airframe waterbed mattresses has satisfied the needs of people like you looking for a quality mattress with extra features.
WHY?

COMFORT, of course, is the main reason. It cradles and supports the body at the same time. The surface tension is different from any other type of waterbed mattress. The air chamber is soft and flexible, allows you to enter and exit the bed with ease and sleep all the way to the edge. The top surface of the mattress is smooth and taut which supplies the needed support.
It's ADJUSTABLE by adding or removing air and/or water.
It is a COMBINATION UNIT mattress, liner and frame all in one small package, easy to handle, store and transport (shipable via UPS, 25 to 40 lbs). Beyond the mattress, you will need a platform (deck and pedestal) and a waterbed heater.
EASY INSTALLATION. Fill outer chamber with air, center on platform or in frame and fill with water. Total installation time is 15 to 30 minutes depending on mattress size and water pressure.
It's VERSATILE. Can be used on a deck and pedestal, in a platform frame, cut-away frame or a full height frame. Most people prefer using it without a full height wood frame.
EASY TO MAKE using fitted sheets. The flexible air chamber lifts allowing the fitted sheets to slip on and your sheets stay on, too!
Our premium 27 mil vinyl is 35% THICKER than most other water mattresses. The thicker vinyl helps the mattress maintain its shape when used without a wood frame.
The outer air chamber eliminates approximately 35% of the water and as a result heating costs are reduced.
The mattress is designed with SAFETY in mind. There are two internal walls dividing the water and air chamber. The first wall separates the two chambers and the second wall acts as a safety wall in the event of a rupture internally. Water, in most cases, will remain contained in the water chamber, and on the rare occasion when water transfers to the air chamber it still remains contained. A major safety factor! The attached liner is 20 mil thick, protects the bottom surface of the mattress and helps maintain mattress shape.
A STYLE AND SIZE FOR EVERYONE
AIR CUSHION® This is the basic free flow style unit, it has no fiber insert. Keep in mind that the outer air chamber and the internal walls will dampened the motion by themselves. Motion stops in 20-30 seconds. Least expensive of the airframe mattresses, easiest to transport and easiest to drain.
AQUA ELITE® 90% waveless. Motion stops in 5-7 seconds. Wave reduction is achieved by means of a free floating (not attached to the mattress) 4" thick fiber pad. Excellent choice when only one person sleeps on the bed. Care must be taken when draining the mattress.
AQUA ELITE®PS 95% waveless. Motion stops in 3-4 seconds. This mattress is similar to the Aqua Elite but has additional fiber in the middle third of the mattress which gives more lift in the back area. You can also special order this mattress and request that the PS fiber be placed in the center, head-to-foot instead of side-to-side. This is extremely helpful when the body weights of both persons vary 100 lbs or more (the heavier person causes the mattress to pull down further). The placement of the PS fiber head-to-foot will cause the mattress to stay more level when sleeping close together. This is the most popular of all airframes. As with all fiber filled mattresses, care must be taken when draining it.
AQUA ELITE®EXTRA-FIRM 99% waveless. Motion stops in 1 second. Wave reduction is achieved by means of a free floating 6" thick fiber pad. This mattress is recommended for those people who prefer no motion and a firm sleeping surface.
All of the airframe style mattresses are available in waterbed and conventional sizes plus custom sizes.
PERSONALIZED SERVICE
Have questions? Call toll free in the U.S. at 1-800-523-8853, or fax us at 1-707-894-2660, or e-mail to: becky@newworldmfg.com.
Airframes are our specialty. They are the oldest, most continually produced design in the waterbed industry.
OTHER WATERBED MATTRESSES
We manufacture a full line of waterbed mattresses from the basic all water mattress to a Fibermax #420 (no motion) for use in a wood frame. They are available in waterbed size King 72"x84", Queen 60"x84", Super Single 48"x84", 7' and 8' rounds. Other sizes are availabe on special request.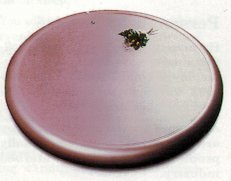 Pictured here is an 8' round Air Cushion mattress.
Home Page/ Pond liners/ Bulk container liners/ Custom products/ Air mattresses/ Surgery pads and mattresses/ Lining materials